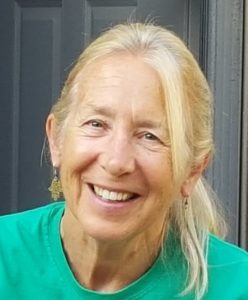 Ingrid Bacci, PhD, CST, CMT, has had a private practice in complementary health since 1992. She combines her extensive background in Craniosacral Therapy, movement therapy (the Alexander Technique), Yoga, counseling and meditation training into helping clients heal from both physical and mental challenges.
Ingrid's experience grew out of an abrupt and catastrophic change in her own life. After graduating from Harvard University and receiving a doctorate in philosophy from Columbia University, Ingrid was teaching as a professor at the State University of New York when she became crippled by a severe connective tissue disease. Mostly bedridden for three years, when medication and hospital care failed to help her, she embarked on an exploration of alternative modalities that focused on bodywork, the mind-body connection, nutrition and meditative techniques. These contributed to her full healing and became the focus of a new career. Ingrid studied meditation and stress reduction techniques under professional guidance for five years and has been for many years certified as a Craniosacral Therapist, an Alexander Technique teacher, and a Yoga teacher.
Ingrid taught Craniosacral Therapy internationally for its founding center, the Upledger Institute, for over five years, before launching into teaching her own courses. She also developed and taught a course integrating Craniosacral Therapy and the Alexander Technique at the Alexander Technique Center in Ireland, from 2004 to 2009. Ingrid has developed and conducted healing retreats throughout the United States and Europe.
Ingrid developed preventive healthcare materials for Beth Israel Hospital's Continuum Center for Health and Healing and for Oxford Health (now United Healthcare), where she also taught her educational approach to chronic pain reduction for five years.  Other clients have included Columbia College of Physicians and Surgeons, Stamford Hospital, Memorial Sloan Kettering, Northern Westchester Hospital, and the holistic healing centers at Kripalu in Massachusetts, Esalen  in Big Sur California, Wainwright House in Rye, NY, and the New York Open Center.
Ingrid  is an internationally recognized author in the field of healing. Her first two books, The Art of Effortless Living (Perigee, 2002) and Effortless Pain Relief (Simon and Schuster, 2005) both of which are translated into numerous languages, have been Book of the Month club selections and have been featured in Oprah's magazine "O". Her third book, Fear-Less Now (Balboa 2012) focuses on the full integration of physical, emotional and spiritual healing.
Ingrid is in private practice in Cortlandt Manor NY, an hour north of New York City.
Education
B.A. Harvard University, summa cum laude
Henry Fellowship, Cambridge University England
PhD in Philosophy, Columbia University
Meditation Training Sri Chinmoy Center, 1979-1984
Alexander Technique certification 1992
Craniosacral therapy Certification, 1999
Yoga certification, Asheville NC, 2013